Luxury hotels and resorts around the world are embracing the most critical element to a perfect vacation: nature immersion. Here are seven that do it exceptionally well.
Whether a vacation steeped in centuries-old tradition or something that feels a lot more like a glimpse into the future, there's no single definition of luxury. The one element that's fast becoming the throughline though? Nature. And lots of it.
Escape to these luxe destinations for a bit of magic, luxury, and nature. Whether you love coastal, architecture, jungle, or the ice and snow, there's something here for everyone. So pack up your travel essentials, and get ready for life-changing journeys.
1. Six Senses Fort Barwara, India
Relive your childhood love of forts with a twist. The Six Senses Fort Barwara turns a 700-year-old fort into a luxury resort in Rajasthan, India. The fort dates back to the 14th century, once owned by royals. Six Senses has restored the stunning 5.5-acre property that features two palaces and two temples. The luxury hotelier worked with descendants of the family on the restoration.
Fort Barwara features 48 one-bedroom suites with canopy beds, stunning arches, and separate living rooms with wooden decor. Suites in the east feature countryside views, and those in the west-wing show off the village. Depending on the suite, there are outdoor showers, private gardens, rooftop terraces with hot tubs, or a pool and outdoor dining pavilion.
Ingredients for the Roohani restaurant are sourced from the resort's garden and nearby farms for an international menu as well as Indian favorites. Like all of Six Senses resorts, this one features a spa and fitness center with pool, sauna, steam rooms, and spa services that embrace local Ayurvedic treatments.
Fort Barwara is close to Ranthambore National Park where you can spend the day searching for tigers and enjoying other wildlife.
Rates start at $1,083 per night.
2. Bocas Bali, Panama
Spend your next vacation at the world's first elevated overwater beach, located in Panama. Bocas Bali opened last September and takes its inspiration from Indonesia, with the beach named Kupu-Kupu, "butterfly" in Indonesian.
The resort is its own island, surrounded by lush forests and oceanfront views.
"We have the most picturesque private island retreat at Bocas Bali and the only thing missing was the beach," Dan Behm, the owner and founder of Bocas Bali, said in a statement. "We wanted to create an experience in a class by itself that pays homage to the incomparable natural setting, while providing our guests the luxury of a private beach experience on our exclusive island. We don't want to be everything to everyone, but we really have something special and it's undeniable from the moment our guests arrive at Bocas Bali."
Sixteen villas on-site offer breathtaking views, and plush amenities—including all meals. The resort is entirely off-grid, built with sustainable materials, and responsible systems like rainwater catchments.
"Sustainable luxury is the core of Bocas Bali and protection of the natural elements and sea life were crucial when we decided to create Kupu-Kupu Beach," Scott Dinsmore, general manager of Bocas Bali, said. "We are very proud of what we have created, and we are very excited for our guests to experience the world's first overwater beach."
Rates start at $1,100 per night.
3. Soneva Kiri, Ko Kood, Thailand
Soneva Kiri is nestled on the tranquil island of Koh Kood, 50 miles away from the bustle of the mainland. The sustainably-designed resort boasts 36 villas with private infinity pools and outdoor terraces surrounded by the Gulf of Thailand for an unforgettable stay.
The resort is steeped in cultural tradition and history, including the region's heavy Cambodian influence. Soneva Kiri is located inside a lush tropical rainforest and steps from award-winning beaches—or spend the day in your private jungle suite enjoying the amenities on-site, including 11 double-treatment spa rooms.
The property features an organic garden that provides fruits and vegetables for the resort's kitchens that offer traditional Thai cuisine as well as Mediterranean options.
Rates start at $720 per night.
4. Treehotel, Sweden
Nothing is more immersive or luxurious than floating amongst the trees. This is the premise of the eight-room Treehotel located in the Swedish Harads forest.
Founded by husband-and-wife team Kent Lindvall and Britta Jonsson-Lindvall, the nature-focused resort features different treehouse rooms, filled with luxe amenities, all while you enjoy the peaceful forest that surrounds you.
"We live here, we love our village, we wanted to earn a living and we looked at what we could do with what we have here," the founders say. The hotel embraces sustainability throughout, including locally-sourced food for its on-site restaurant.
Its newest room, dubbed Biosphere, is set to open this month. It features 350 birdhouses on the exterior of the room. Not only does this provide guests with stunning views of nature, but it also helps promote nesting and species preservation in the forest.
Rates start at $1269 per night.
5. Octola Private Wildnerness, Finland
Opened in January, Octola is Luxury Action's newest resort, located in 400 hectares of pine forest deep in the Arctic for a remote destination immersed in nature. It's the first five-star sustainable resort and spa in the region. It adheres to strict sustainability standards, boasting a carbon-negative footprint and a commitment to Luxury Action's minimalist approach to tourism.
The ten-bedroom private lodge and two-bedroom luxury villa infuse sustainable design and local Lapp and Sámi traditions.
"From the beginning, I wanted the contribution of a Sámi architect, who understood my philosophy of 'new luxury,'" Luxury Action's Founder and CEO, Janne Honkanen, said.
Octala's ethos is that of personal and planetary wellness, with a luxe spa including a cold plunge meant to mimic the regional waters. An outdoor hot tub situates you under the stars and within view of the Northern Lights.
Rates start at $2900 per night.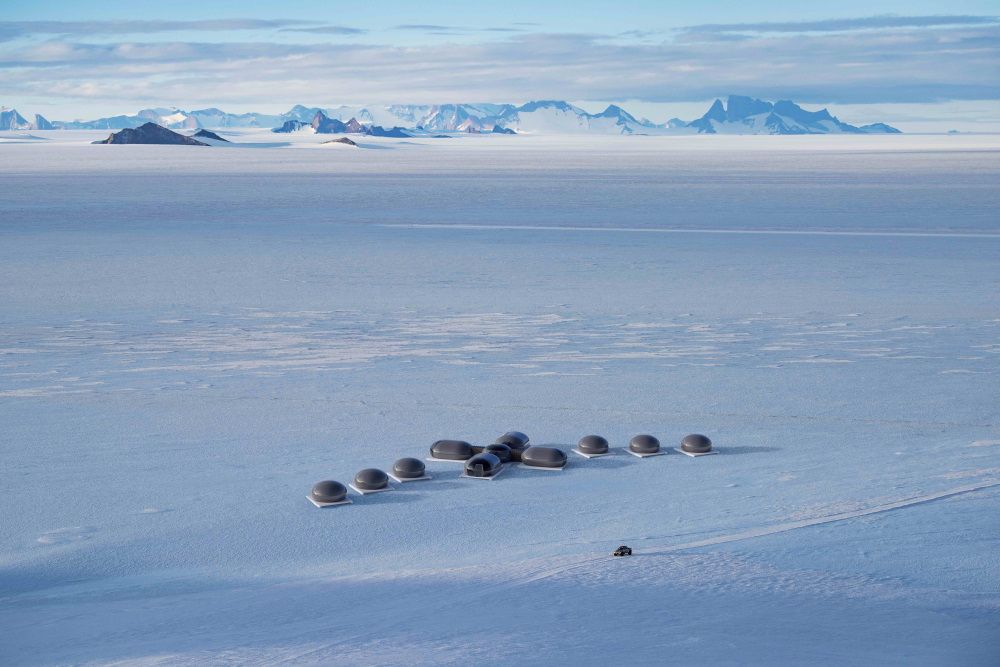 6. Camp Echo, Antarctica
You might want to pack some extra layers for this trip. White Desert's newest Antarctic excursion, Echo, brings luxury and sustainability to the world's most remote destination.
Get ready to explore the area few have been to—the interior of Antarctica. The minimalist destination features six heated "sky pods" that offer stunning views and luxe interiors, including photos taken from the International Space Station by retired astronaut, colonel Terry Virts.
"The mountains are the most beautiful I have seen across Earth, Venus and Mars", explains Virts.
The central camp features a lounge, dining area, and the camp's shower pods. The entire pop-up retreat is meant to be packed up and removed without a trace. But before you leave, you'll visit Emperor penguins, do a little hiking and ice-climbing. White Desert donates $1,000 to conservation and sustainability initiatives for every person per trip to further its commitments to protecting the fragile region.
The first trip is set for November, and it'll set you back a pretty penny. Prices for the trips range from $14,500 to $98,500 per person.
7. Wilderness Safaris Bisate Lodge, Rwanda
Otherworldly is how guests describe Bisate Lodge in Rwanda. The six-room resort is nestled in the heart of the jungle, where you'll trek out to view silverback gorillas. Enjoy stunning views of Volcanoes National Park, or lounge around the lush grounds where the resort welcomes guests to plant a tree in the garden. As part of its restoration project, the resort has planted more than 20,000 trees since it opened in 2017.
The resort is mindful of the environment it calls home and employs low-impact measures throughout, even including talks for guests about the need to protect local biodiversity. The food served at the resort is farm-to-table, focused on local plant-based ingredients. All meals are included as is afternoon tea service and the resort's selction of fine wines.
It is the premier location if your goal is seeing gorillas—and that comes with a $1500 daily permit fee—but the resort prepares visitors well for the journey, with guidelines in place so that minimal stress is put on the animals.
Rates start at $1,155 per night.
Still feeling the travel bug? Check out these luxe African safaris, or, for a more healing journey, check out these psychedelic wellness retreats.